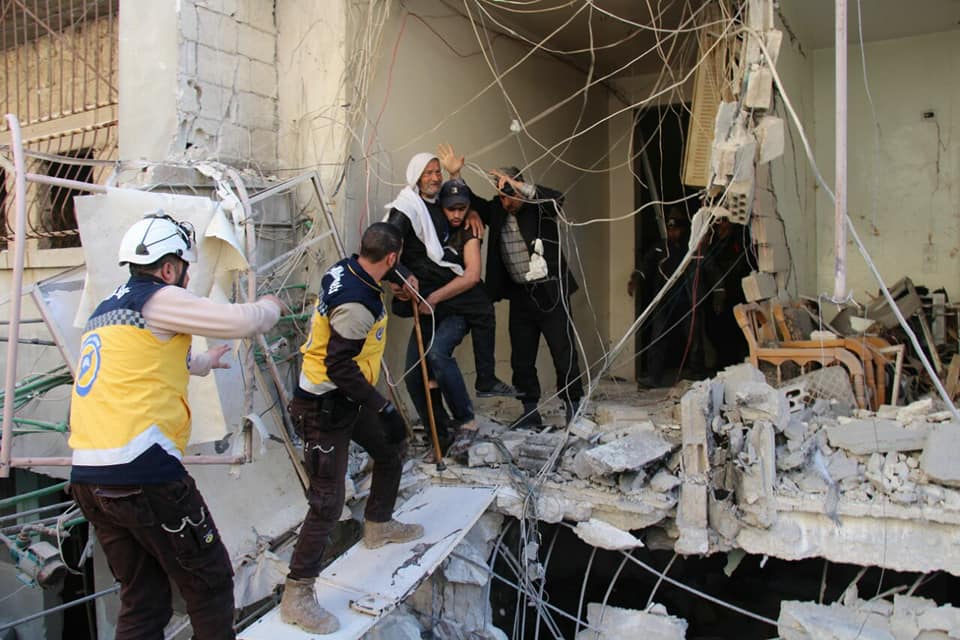 A Day in Syria: April 4th 2018
By Caroline Pearse & H. E.
This day last year the chemical massacre of Khan Cheikhoun took place. On April 4th 2017 the Syrian regime aviation bombed the city using Sarin gas. This massacre led to almost 100 victims, most of them were children, and 400 injured people.
Artillary fire on the farmlands of the village of Al-Zarba in the province of Alep made 4 victims among them 2 children, all shepherds.
The Russian aviation has bombed today the town of Ariha (Jericho) in the province of Idlib. Missiles launched during air raids have targeted the municipality of Azziarah in the province of Hama.
The Russian aviation has targeted today several cities and villages in the province of Idlib, among them Jisr Al-Choughour, Rakaya, Al-Kastan, Hallouz and Al-Ghassania.
According to the SNHR, the Syrian Network of Human Rights, the Syrian regime army has committed 214 chemical attacks since 2011. These attacks made at least 1421 victims, among them 187 children and 244 women.
According to the SNHR, 1096 Syrians were arrested by the Syrian regime last March. 749 of them originated from the towns of Eastern Ghouta recently invaded by the regime. Among them 108 women and 32 children were recorded.
The Turkish president Recep Tayyip Erdogan has hosted today in a summit in Ankara his Iranian and Russian counterparts, the Iranian Hassan Rohani, and the Russian Vladimir Putin. The aim was to discuss the future of Syria devastated by seven years of war.
The Ankara summit has confirmed the sovereignty, unity and independence of Syria. The final communiqué has also invited to renew the political operation following the resolution 2254 of the UN Security Council.
The Law 10, announced on Monday by Assad, created a lot of anger among the Syrian deportees and expatriates. This law allows the reorganization of the extension map of the cities. It also plans the creation of new zones in the middle of the old ones. As a result of this, the deportees and expatriates risk having their properties confiscated.
The United Nations counsellor responsible for humanitarian affairs has asked today to allow the access of humanitarian aid to Douma where almost 150 000 persons are living under siege.
In a post on his personal page, Mark Zuckerberg, the Facebook founder has announced a campaign against Russian faked accounts that Russia is using in order to manipulate information. These accounts were used by Russia to manipulate electoral campaigns in several Western countries.
A Day in Syria: April 3rd 2018
This post is also available in: Français (French)