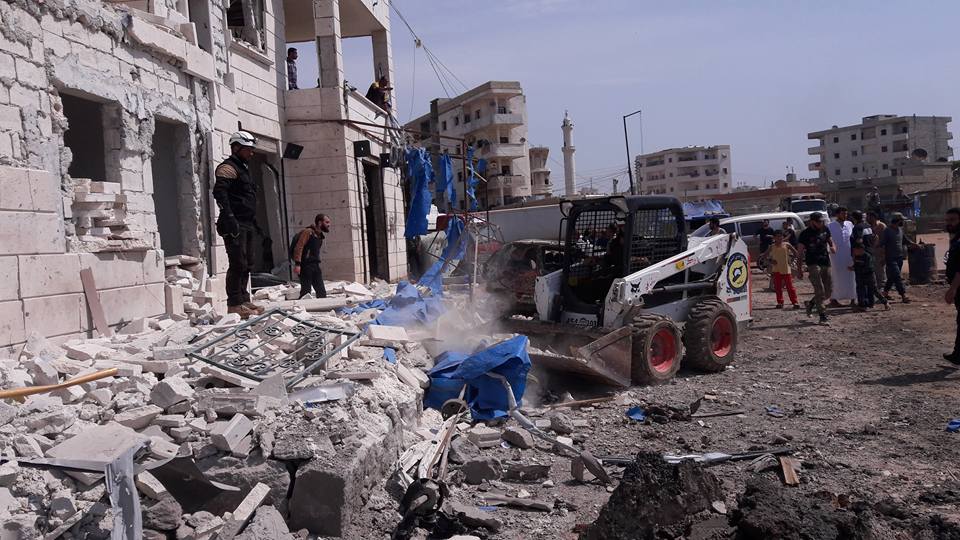 A Day in Syria: May 4th 2018
By Caroline Pearse & Harald Etzbach
The deportation of opponents from Beit Sahm, Babila and Yalda, in the southern suburbs of Damascus, continues on Friday and Saturday. The opponents, armed or civilians, will be heading to the north of Syria with their families. After the departure of the inhabitants from eastern Ghouta, Damascus' areas are getting empty without opponents.
31 buses with deportees from the southern areas of Damascus arrived in the north of Syria on Friday. They were carrying more than 1643 citizens.
A car bomb exploded today on the road between the town of Darkush and the city of Jisr Al-Choughour, in the province of Idlib. It targeted a rebel car. Five rebels were injured.
According to the Masar Press agency, pro-regime Shiite militias killed two opponents in Kafraya in the province of Idlib. Regime forces also burned agricultural land.
According to Reuters, Egyptian Foreign Minister Sameh Shoukry's spokesman said there is a possibility to send Egyptian forces to Syria.
According to activists, Russian air raids targeted today several towns in the north and northwest of the province of Hama, which led to several injured persons.
According to local residents in Yarmouk Camp, more than 20 civilians (mostly children & women) were killed two days ago by a bombing that targeted one of the basements where people were hiding.
According to the Syrian Network for Human Rights (SNHR), seven civilian victims, among them a child, and several injured were recorded in an explosion of unknown origin in the agricultural lands between Termanin and Darat Izza in the province of Idlib.
According to the SNHR, the media activist Abdul Mun'em Zakaria was murdered in the explosion of a motorbike bomb in the city of Saraqeb in the province of Idlib on Thursday. The perpetrators of the murder are still unidentified.
According to the SNHR, the Syrian regime arrested 8 civilians in the town of Deir Al-Bakht. They were then taken to an unknown destination.
This post is also available in: Français (French)