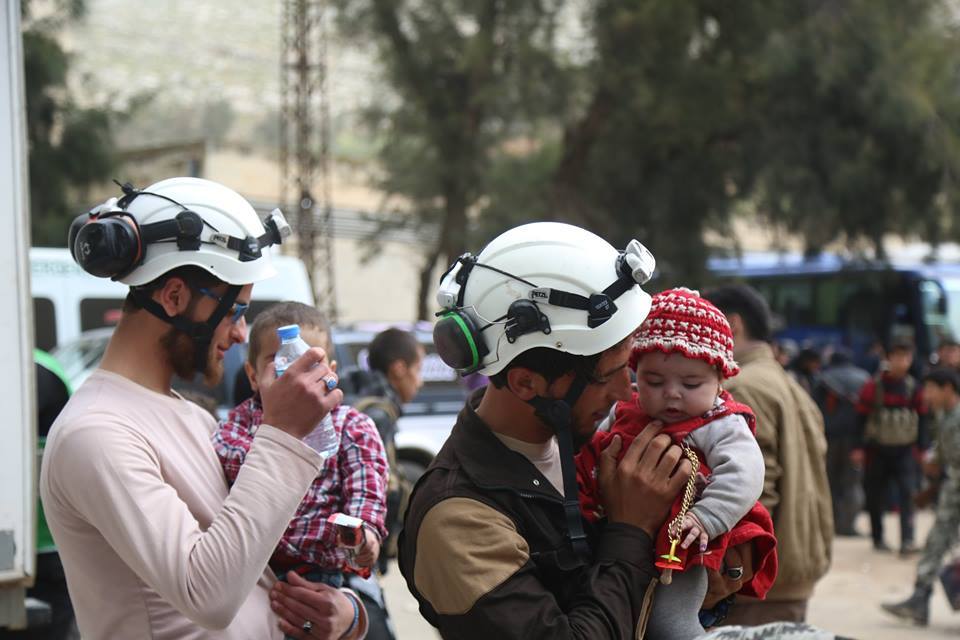 A Day in Syria: March 28th 2018
By Caroline Pearse & H. E.
According to the information network of the Jobar area in Eastern Ghouta, there were 1945 victims of the bombings in Ghouta between February 19 and March 23, among them 385 children and 285 women. Eleven chlorine attacks have been recorded.
The head of Jaysh Al-Islam has announced today that negotiations were still going on with Russia to save the people of Douma in Eastern Ghouta.
The artillery shelling of Douma city has continued today. Twenty missiles have fallen on the city this afternoon.
In the concentration areas hundreds of young people who were not deported from Eastern Ghouta have been detained by Russian mercenaries. A photograph shows young people from Hamouria who went out through the secured corridors held on the ground in a school yard.
50 busses transporting deportees from Eastern Ghouta have arrived today in Qalaat Al-Madiq in the province of Hama. Their destination is the province of Idlib in the north of the country.
The University of Idlib has announced that students arriving from Eastern Ghouta wouldn't have to pay for the registration fees. The education department of the city has published a prescription to accept all students from Ghouta without any exception.
Bombings have taken place today on several cities and communities of the province of Idlib. A child called Mustapha Ayman Al-Omar from the village of Al-Noukeir as well as a man from the village of Al-Cheikh Hussein has been killed by these bombings. There were two other victims of the bombings on the farming lands close to the city of Jisr Al-Choughour.
According to the UN OCHA, the United Nations Office for the Coordination of Humanitarian Affairs, 80 000 Syrians have been deported from Eastern Ghouta since March 9, 2018. More than 50 000 of them are concentrated in collective makeshift shelters in the province of Damascus. More than 20 000 have been deported towards the province of Idlib in the north of Syria.

Anonymous drones made several air raids yesterday aiming at military sites of the regime in some villages of the province of Deir Ezzor.
A meeting is planned tomorrow between the special envoy for Syria, De Mistura, and the Russian Minister of Foreign Affairs.
After 5 years of detention, Bassel Hussein Al-Zoubi has been declared assassinated under torture in Assad prisons.
The image of the day shows Bayan, a young Syrian girl, still a baby, from Eastern Ghouta. She arrived alone in the province of Idlib after her mother's death in the bombings a few days ago and the separation from her father retained in Ghouta. The Syrian Civil Defense is taking care of her.
This post is also available in: Français (French)