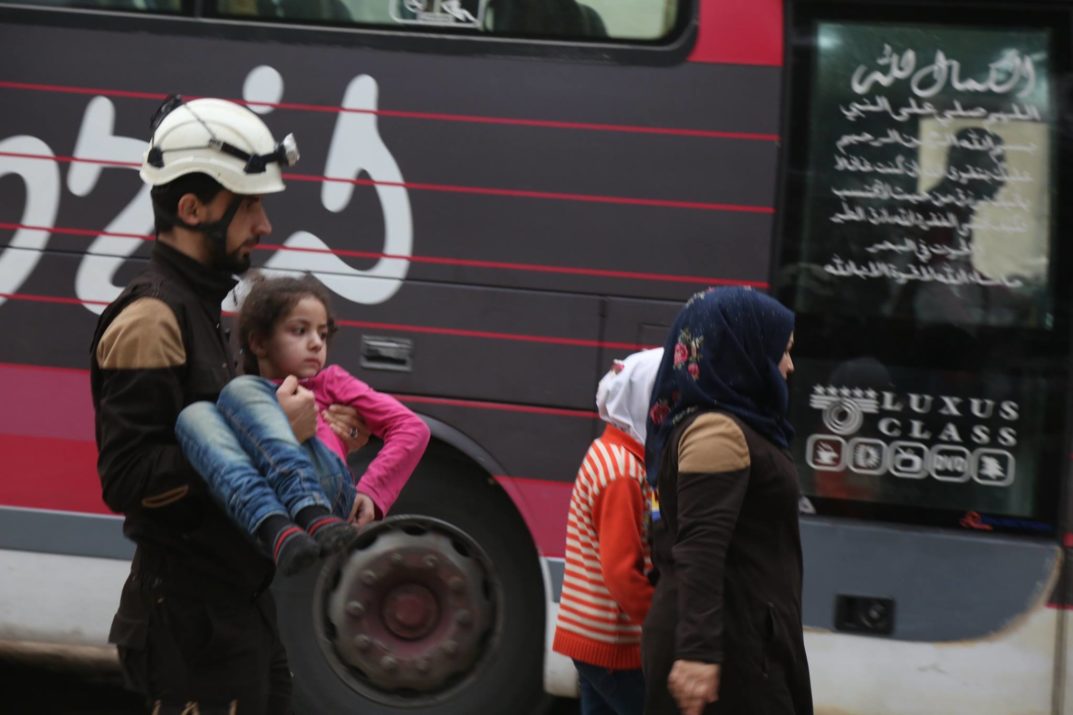 A Day in Syria: March 29th 2018
By Caroline Pearse & H. E.
The head of the Syrian secret services, Ali Mamlouk, discretely met his Italian counterpart in Rome last January. He is the third most important Syrian war criminal after Bashar al-Assad and Maher al-Assad on the EU black list. The information has been published by the French newspaper Le Monde, which took it from the Lebanese newspaper Al-Akhbar.
The Syrian regime and his allies have continued to bomb the city of Douma in Eastern Ghouta today. Several victims and injured persons have been recorded in Douma, a city with almost 150 000 inhabitants. The bombing also aimed at several cities in the provinces of Hama and Idlib, like Al-Latamnah and Al-Ziara.
Dozens of inhabitants of the city of Douma demonstrated yesterday in support of the committee for negotiations with Russia. They called for a ceasefire, the protection of civilians and an end to the deportation of the population.
The municipality council of the city of Douma, despite the bombings, continues giving the necessary services to the population as collecting the garbage and clearing the roads. The emergency committee of the council keeps on bringing food aids to the city inhabitants.
The pro-regime militias executed a whole family in the city of Kafr Batna in Eastern Ghouta Wednesday night. Two brothers (Adnan and Mohammed Dib Mahdar Al-Chamiah), the wife of the second brother and their son were summarily executed.
The fifth wave of deportees from Ghouta has arrived in Qalaat Al-Madiq today, on their way to then north controlled by the opposition. 3000 persons have arrived, among them 25 persons suffering from fractures and burns.
Several municipality councils in the provinces of Idlib and Alep continue their efforts to welcome the refugees from Ghouta.
A child has died of his injuries today after an explosive device blew off under a driving car between the villages of Al-Kark and Rakham in the province of Deraa.
The Turkish armed forces withdrew from the city of Tal Rifaat yesterday after controlling it during a few days.
The Oil Ministry of the Syrian regime has given a Russian company the right to extract phosphate in the area of Palmyra during 50 years.
The image of the day: a greengrocer in the province of Idlib offers his products for free to the deportees from Eastern Ghouta.
This post is also available in: Français (French)