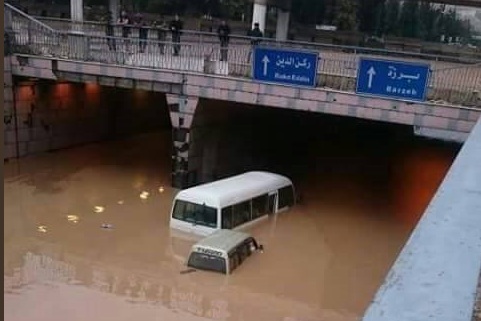 A Day in Syria: April 28th 2018
By Caroline Pearse & Harald Etzbach
A curfew was imposed last night for the population of Idlib. It came after several assassinations of military chiefs in the city and in the province.
Fightings have occurred between Daech and SFA (Syrian Free Army) groups in the south of Damascus. After the regime army has blocked the supply routes of Daech in the Al-Yarmouk camp, the organisation is trying to control the neighboring areas.
A summit on Syria has taken place today with the heads of Russian, Turkish and Iranian diplomacy. They were to speak about the resumption of the search for a solution in this conflict where the three countries imposed themselves as masters of the game. Still, contradictory interests between Moscow, Ankara and Tehran are dividing these countries especially on the outcome of the Syrian dictator Bashar al-Assad.
After his meeting with the new U.S. Secretary of State, Mike Pompeo, in Brussels, Turkish Foreign Minister Mevlut Cavusoglu says they had agreed to approve a "road map" in Syria to avoid a possible confrontation between both countries.
NATO : Luxemburg wants Turkey's offensive in Northern Syria to be opened to discussion. Since January 20th Turkey has led an offensive against Kurdish forces in Afrin that helped the international coalition in the struggle against the Islamic State (Daech).
Battles have resumed today in the south of Damascus where the regime army tried to seize the Al-Zein road in the neighborhood of Al-Hajar Al-Aswad. According to activists, several TNT barrel bombs were dropped on the area.
According to activists, the regime army has bombed the city of Deraa today using ground-to-ground missiles. A woman and her son have been killed.
Russian air raids have bombed several towns in the northern province of Hama today : Tal Othman, Al-Arba'in and al Jabiri.
This post is also available in: Français (French)