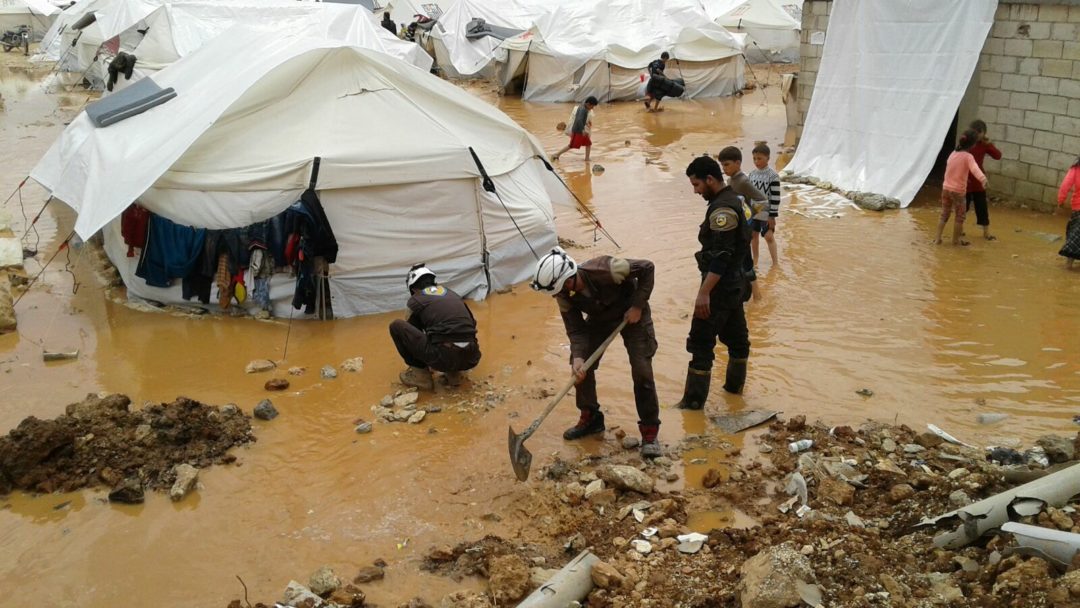 A Day in Syria: May 8th 2018
By Caroline Pearse & Harald Etzbach
A camp of displaced persons in the city of Al-Bab in northern Syria has been flooded due to torrential rains. The civil defense intervened to evacuate the water and to help the population living in makeshift tents.
A demonstration took place today in the city of Al-Bab against the blocking of the convoy carrying deportees from the province of Homs. Those deportees were waiting for a permit from the Turkish authorities. Another convoy from the camp of Al-Yarmouk will arrive in the city after the convoy coming from Homs.
New deportation convoys are getting prepared today for the departure from the southern areas of Damascus towards the north of Syria. However, the regime and its Russian and Iranian allies are still bombing several southern areas of the capital as well as the Al-Yarmouk camp.
Four air raids, probably from Russian forces, on the village of Al-Naqeer in the province of Idlib led to three victims, among them two children.
Arab soldiers mostly belonging to the tribe of Al-Chaitat, deserted the Syrian Democratic Forces, SDF. The SDF are mostly Kurds. They are supported financially and militarily by the United States.
According to the Syrian Network for Human Rights (SNHR) an elder civilian called Saleh Al-Faheid died on Sunday due to the explosion of a landmine in the village of Al-Chehabat near Deir Ezzor.
According to the SNHR, no less than 2388 barrels of TNT have been dropped by the Syrian Regime air force on Syrian towns and cities since the start of 2018.
According to activists, snipers from the Turkish army fired on members of the Kurdish Democratic Forces in the city center of Malikiah in the northern province of Al-Hassaka.
The picture of the day is the one of the Syrian mathematician Jamal Abu-Alward who received the Turkish nationality in record time thanks to his work in mathematics. He said he plans to run for the Turkish parliamentary elections next year.
This post is also available in: Français (French)