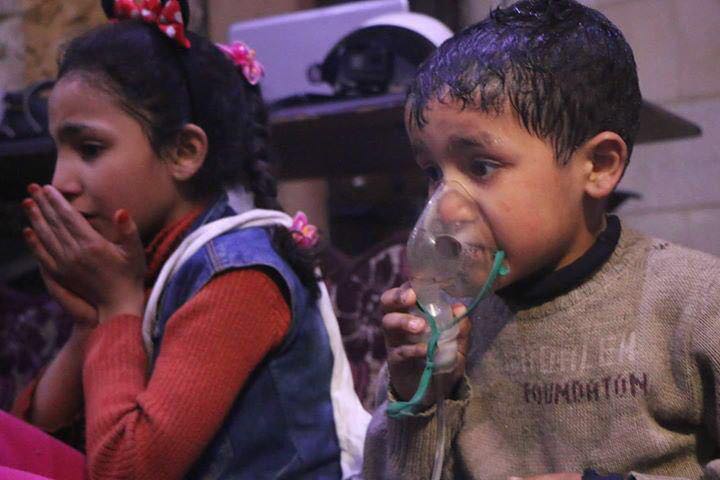 A Day in Syria: April 8th 2018
By Caroline Pearse & H. E.
The death toll of the chemical attack of yesterday on the city of Douma has risen to 200 victims. 1200 cases of suffocation have been reported. According to a video communiqué from the Syrian Civil Defense of Rif-Dimashq, the chemical substance used by the regime yesterday is still not identified.
According to the video communiqué from the Syrian Civil Defense of Rif-Dimashq, the chemical massacre has led to more than 1200 cases of suffocation. The death toll is still unknown as it is difficult to reach the shelters and buildings hit by the attacks.
Syrians have demonstrated everywhere today in Syria to protest against the chemical massacre in Douma. The picture comes from the city of Aazaz in the province of Alep. Demonstrations are planned all around the world this week.
A joint communiqué from the White Helmets and the medical NGO SAMS said that more than 500 persons, mostly women and children, are showing "symptoms of an exposition to a chemical substance". Patients are suffering from "breathing problems, eyes burn, excessive foam coming out of their mouth and they are releasing a smell similar to the one of chlorine", according to their communiqué.
According to RTBF (Belgian Radio and TV), the United States have condemned today the strikes from the Syrian regime against rebel groups in Douma in Eastern Ghouta. They asserted that Russia was held responsible for this attack because of its full and continued support to the Assad regime.
The American President, Donald Trump, has promised on this twitter account that there would be a «big price to pay » by the Syrian President Bachar al Assad for the chemical bombing
Several voices have risen this Sunday to denounce the use of chemical weapons by the Syrian regime. France, through its Minister of Foreign Affairs, Jean-Yves Le Drian, has expressed its "extreme concern". The Minister has declared this Sunday that France would take all its responsibilities regarding the struggle against the proliferation of chemical weapons whereas Paris repeated several times that France would strike militarily in a case of known use of chemical weapons.
Paris has asked for an emergency meeting of the UN Security Council on Monday about the use of the chemical weapon in Syria.
According to the Syrian Civil Defense, 30 air raids have taken place this morning on the city of Douma in Eastern Ghouta.
2 civilians have died in the bombing on the city of Al-Lataminah in the province of Hama. An underground shelter fell on them.
The image of the day: A French activist has climbed today the front of the Centre Georges Pompidou in Paris to protest against the chemical massacre in Douma. Pascal Hanrion is a photographer committed in the support of the Syrian people and especially of the White Helmets, members of the Syrian Civil Defense.
This post is also available in: Français (French)