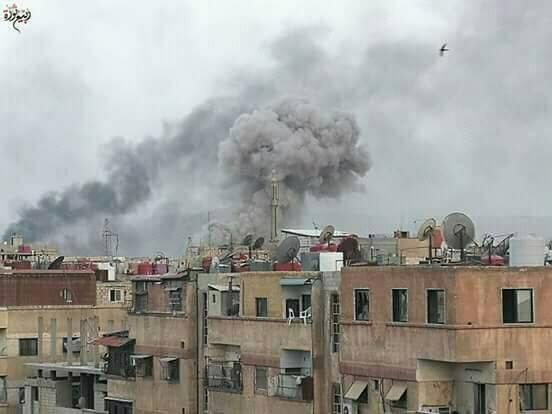 A Day in Syria: April 20th 2018
By Caroline Pearse & H. E.
Bombings started again this morning on the areas of Al-Tadhamon, Al-Hajar Al-Aswad and the camp of Yarmouk in the south of Damascus. The Syrian regime artillery and aviation participated in these bombings supported by pro-Iranian militias.
According to Sky News, Russia has revealed it warned the US about "red lines" it should not cross before it launched airstrikes on Syria. Three countries, among them France, bombed chemical weapon research and production sites in Syria on April 14.Though all 110 missiles, American, British and French, reached their targets, no victim was reported on the regime's side.
A UN car entered today the city of Douma in the suburbs of Damascus. OPCW inspectors (Organisation for the Prohibition of Chemical Weapons) have arrived in Damascus for about one week. They still haven't managed to reach the areas of the city of Douma attacked by toxic gas on April 7th. Inspectors have been blocked by the Syrian regime administration and « unidentified » snipers' shootings targeting their reconnaissance unit.
The French Foreign Minister, Jean-Yves le Drian, denounced yesterday a manipulation by Russia whose objective is to cover the crimes of the Syrian regime. Several versions of the facts concerning the chemical massacre of Douma were officially published by Russia. Russia had even said it had "irrefutable evidence" Great Britain staged chemical attack in Syria.
The first convoy of deportees from the city of Al-Dhoumeir arrived today in the province of Aleppo. The regime has showed a video of close to 50 buses transporting inhabitants from this city heading north.
Deportation buses of the population of Al-Dhumeir city, according to the regime's military news agency.#Syria #Syrie24hEN pic.twitter.com/NKgip9CNf7

— Syrie 24h (@syrie24h) April 20, 2018
Today Russian military police was deployed in the city of Al-Dhoumeir.
Turkey prepared a new passage on the border with Syria at the west of the town of Cindirese (Jindires) in the northern province of Aleppo.
A bomb car exploded today in front of the mosque of the town of Qalaat Al-Madiq in the province of Hama. No victim was reported despite the presence of numerous followers during the Friday prayer.
The international coalition has sent supplies of weapons and munitions to the SDF, the Syrian Democratic Forces. The SDF with Kurdish majority are the allies of the United States in the eastern governorates of Syria.
Taleb Al-Dris, an activist reporter of the city of Maarat Al-Noumane was found murdered close to the Turkish borders. He had been missing for five days.
This post is also available in: Français (French)