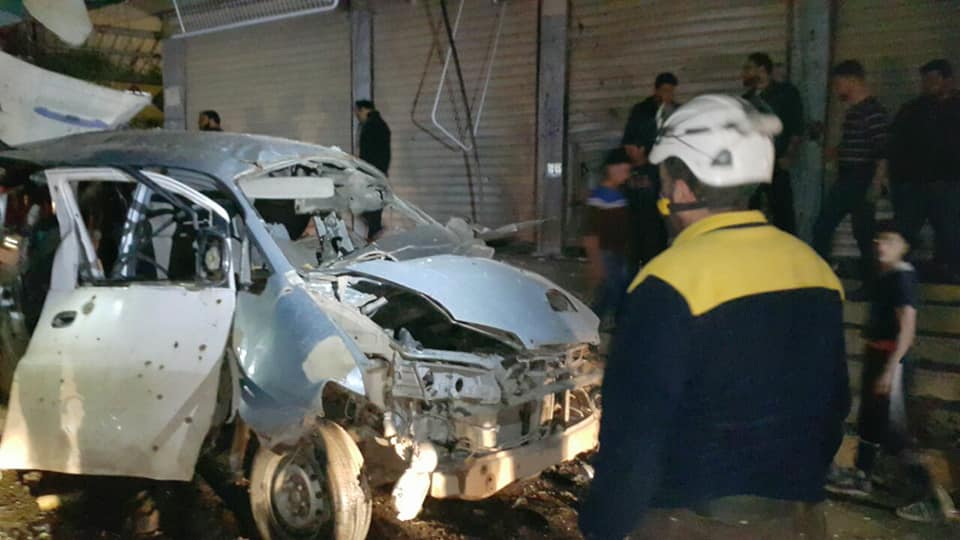 A Day in Syria: April 22nd 2018
By Caroline Pearse & H. E.
Two Russian reconnaissance drones were shot down today in the province of Idlib.
The first convoy of deportees from eastern Qalamoun arrived today in the province of Aleppo.
One day after the agreement reached by the regime and the opposition about the departure of the inhabitants of eastern Qalamoun towards the north of Syria, the regime withdrew from several positions, giving up these positions to the alleged Islamic State (Daech).
Fightings occurred today between regime forces and members of the so called Islamic State (Daech) in the area of Al-Kadam in the south of Damascus.
Videos showed evidence that the regime positioned its artillery in inhabited neighbourhoods to bomb the camp of Al-Yarmouk.
In video: the regime is bombing the camp Al-Yarmouk using the crossroad of Daf Al-Chok in #Damascus.#Syria #Syrie24hEN pic.twitter.com/dRpIKZ2eiI

— Syrie 24h (@syrie24h) April 22, 2018
Fightings started again today between Jabhat Tahrir Souriya (the Syrian Liberation Front) and Hayat Tahrir al-Sham (Organization for the Liberation of the Levant – Hetech) related to Al-Nusra in the west province of Aleppo. According to activists, 1,000 fighters have been killed since the conflict began between the two rebel groups.
A car bomb exploded in the town of Al-Dana in the province of Idlib. No victim was reported. The explosion only caused material damage.
A conference of the Group of Friends of the Syrian People will take place in Brussels on April 24th and 25th. The conference will mainly address the war crimes and impunity that characterize the Syria conflict as well as the evolution of the conflict. Participating countries should use the Brussels conference to commit to policy reforms that respect refugees' rights and demonstrate meaningful solidarity with Syria's neighbors, who are hosting more than 5.6 million of Syria's 7 million refugees.
According to the Lebanese newspaper L'Orient le Jour, the Lebanese journalist Ali el-Amin has been attacked by Hezbollah (Halech) activists in the town of Chaqra in Lebanon. He has been transferred to the Tabnine hospital. He had created an electoral list opposed to Hezbollah (Halech). After this aggression he published a video on his personal Facebook page to denounce this barbaric act and to remind the Lebanese President and authorities of their responsibilities.
A woman from eastern Ghouta has been murdered today by the regime army. Sanaa Al-Bukaï has been killed while trying to prevent soldiers from looting her house in Arbine in Eastern Ghouta.
The picture of the day : Aya Samer Kadrach, an 11-year-old girl, died from her injuries yesterday in Idlib. She had been injured two weeks ago during the massacre in the area of Tal-Nassim. Her twin sister Farah (see picture) died on the spot directly after the bombing of the area.
This post is also available in: Français (French)