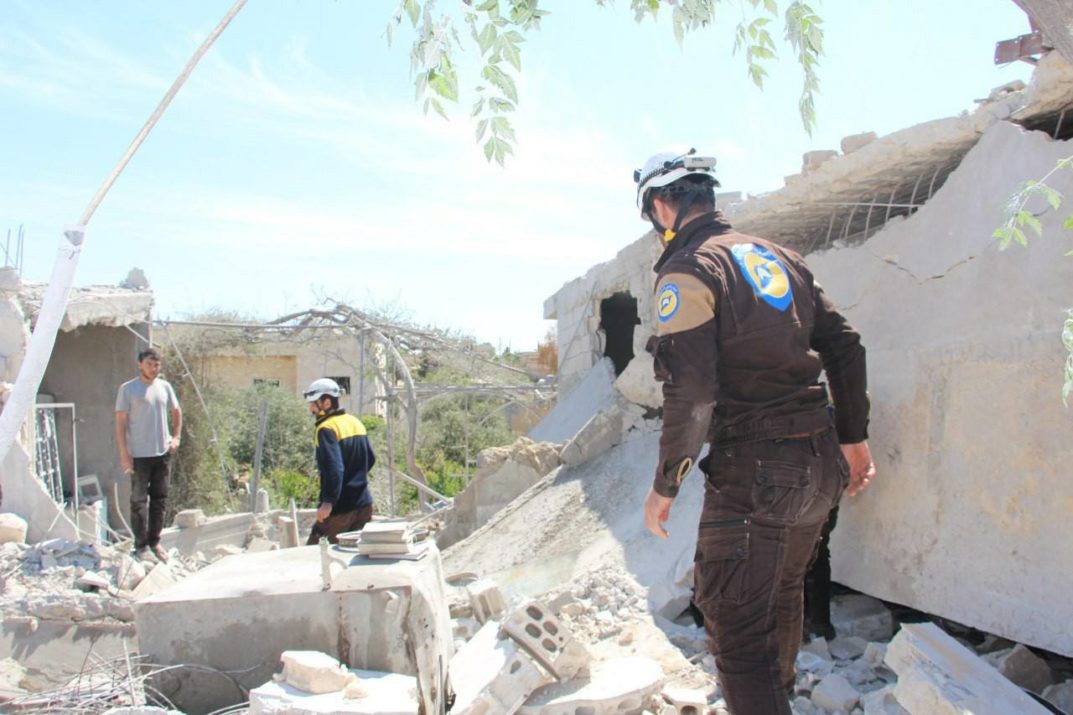 A Day in Syria: April 24th 2018
By Caroline Pearse & H. E.
An agreement was reached yesterday between the opposition forces and Russia concerning a few southern areas of Damascus. This agreement is similar to the one concerning other zones about the departure of fighters, opponents and their families towards the north of Syria. The signatories and the agreement's articles will be confirmed once published.
45 ground-to-ground missile (GGM) targeted yesterday Al-Yarmouk Camp, Al-Hajar Al-Aswad, and Al-Tadhamon neighbourhoods, at once. Picture by Mazer Hussein Radwan
Dozens of families from Al-Yarmouk camp have fled the bombings of the last days to find shelter in the neighbouring areas of Yalda, Babbila and Beit Sahm.
The Syrian regime forces bombed the city of Kafr Zeita in Hama yesterday using incendiary ammunitions.
A Syrian child was killed yesterday at the Turkish border near Jisr Al-Choughour at the west of Idlib. Syrians trying to go to Turkey to flee from war are sometimes exposed to shootings from the Turkish border guards.
The regime forces targeted Maar Tahroma town in the southern province of Idlib with several barrel bombs. Four civilians were killed and ten were injured.
Syrian Regime forces killed 2 civilians from the same family today in Kafr Hamra village in the province of Aleppo.
According to Humanitarian Response in the North of Syria, The third convoy of deportees from eastern Qalamoun arrived yesterday to the north of Aleppo. It contained 11 buses carrying 410 people.
According to Federica Mogherini, High Representative of the Union for Foreign Affairs and Security Policy, « We still believe that it is vital that the cessation of hostilities, in particular for the humanitarian access is guaranteed. The EU is not, has never been a military player, we are a humanitarian and political player."
According to the Belgian magazine Le Vif, Belgium will allocate this year 26 million EUR for humanitarian help to Syria and neighboring countries. This sum will go to the war refugees. The announcement was made by Deputy Prime Minister and Minister for Development Cooperation Alexander De Croo at the start of the international conference Supporting Syria and the Region which takes place today and tomorrow in Brussels.
Ian Martin, a former UN official and Amnesty International chief, said: "The Russian veto need not be the end of efforts for collective action by the UN. The responsibility of asserting accountability for the use of chemical weapons, and for bringing an end to the horrors of the Syrian conflict, rests with the world community as a whole." This occurs after 12 vetoes from Russia that blocked the UN Security Council concerning the crimes from the Syrian regime.
The SNHR, Syrian Network of Human Rights, reported that 12,679 Syrians died due to torture between early 2011 and June 2016. 99 percent of these cases occurred in government facilities belonging to the Syrian regime.
My name was Bilal Tabajo and I was from Douma city in eastern Ghouta. I was a college student. I died today due to torture in a Syrian regime detention center. (Source : Syrian Network of Human Rights)
This post is also available in: Français (French)