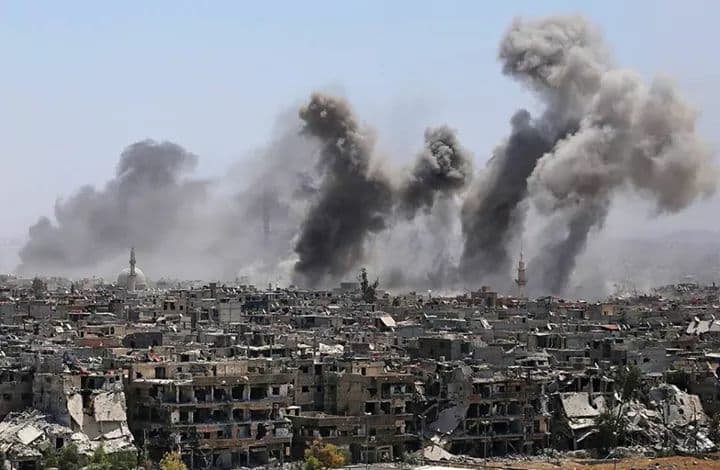 A Day in Syria: April 26th 2018
By Caroline Pearse & Ziad Arbaji
According to activists from southern Damascus, 15 families are still helpless under the rubble caused by the regime's bombing. In Al Jaunieah Street at al-Yarmouk Camp, civilians managed to rescue an injures woman from the rubble, but five children are still trapped.
The market of  Yalda, a suburb near Al-Yarmouk camp is almost empty. The regime closed the passage of Damascus-Babila preventing the inhabitants from getting access to food
According to activists, unidentified people murdered three displaced rebels from the town of Zabadani in Rif Dimachq governorate, on the road between Idlib and Maarat Misrine.
Omar Al-Faraj, an inhabitant of Kafr Zeita in Hama province, was killed today by the regime's army. The night before the regime had used incendiary bombs on this city.
The regime's army bombed Ammar Bin Yasser's school yesterday in the village of Kafr Sajna in Idlib province.
According to Swiss TV, RTS, Switzerland has authorized the export of five tons of isopropanol to Syria in 2014. This chemical compound can be used to produce sarin gas.
The Belgian Minister for Development and Cooperation Alexander De Croo said he had visited refugee camps in the region, the vast majority of refugees have only one desire, to return to their country as soon as possible. He added that most of them have no desire to come to Europe, in a very different culture with a lot of difficulties for them. Most of them want to stay in the region, and that's why the majority of humanitarian aid is sent there.
According to the Turkish Prime Minister, Turkey has spent thirty one billion euros for Syrian refugees.
Today is the 2nd anniversary of the Al-Atarib massacre in Aleppo. On April 26, 2016, after midnight, the regime targeted with 4 air strikes and one missile the center of the Syrian Civil Defense in that city, killing 5 of the volunteers and wounding one. The White Helmets volunteers who were victims of this massacre are: Ahmad Al-Abdallah, Hamdo Haj Ibrahim, Hussein Haj Ismail, Khaled Bachar Al-Khatib, and Ahmad Mahmoud Taher.
The image of the day: Tribute to the Syrian photo-reporter Moaz Al-Omar (Abu Mahdi Al-Hamoui). On april 26, 2014, he was killed in a bombing on Kafr Zeita in Hama province. He died at the age of 16 and became the youngest reporter killed in Syria.
This post is also available in: Français (French)