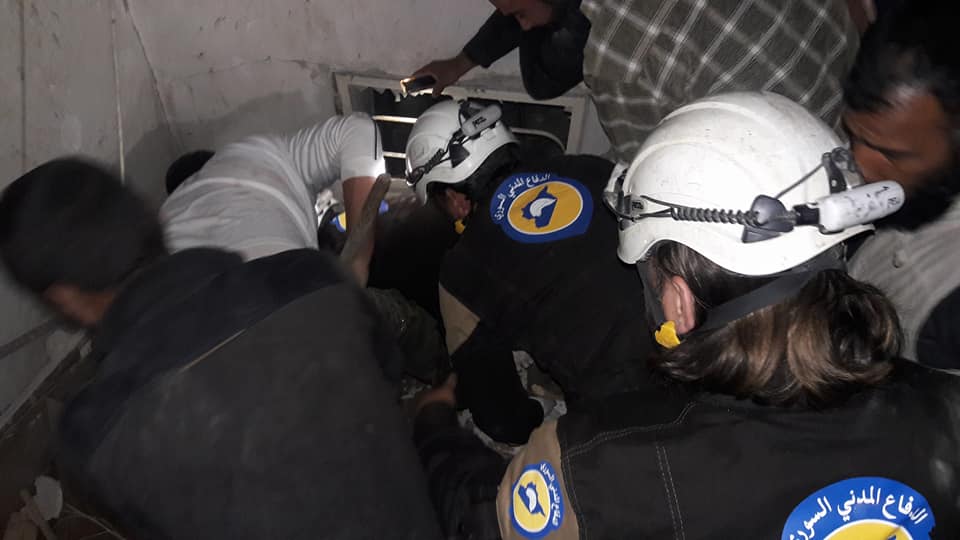 A Day in Syria: April 30th 2018
By Caroline Pearse & Ziad Arbaji
Missiles attacks targeted sites belonging to Iranian forces yesterday in the provinces of Aleppo and Hama in Syria. Regime sources accused Israel of being behind these attacks. Dozens died among the Iranian and Syrian forces on the two military attacked sites. The sites were targeted by missiles probably launched from a military base in Jordan. The destroyed stocks of weapons led to huge explosions that were seen and heard from a long distance.
The regime's army and pro-Iranian militias have taken control today of the area between Yalda and Al-Yarmouk camp, dividing the southern areas of Damascus in two parts.
Hayat Tahrir Al-Sham fighters, Hatesh, started to leave Al-Yarmouk camp for northern Syria today.
The SDF, Syrian Democratic Forces, took over villages yesterday. Those villages were under the control of the regime on Saturday. Attacks by the regime and its militias accelerated at the east of the Euphrates after taking the city of Deir Ezzor.
According to activists, 20 buses arrived in the towns of al-Fu'ah and Kefriya in the province of Idlib with the aim to displace 1,000 persons, Shiite militias and civilians. Both towns were used as military bases for the regime during several years.
An explosive charge targeted a car on the road to Salkine in Idlib province today. A motorcycle bomb also exploded in the city of Idlib.
Six civilians were killed, forty others injured by regime raids and his Russian ally on the city of Al-Rastane. Eight warplanes targeted the area with more than 30 air strikes and 200 Grad missiles.
Negotiations between the Northern Homs Committee and the Russians led to a ceasefire between the opposition and the regime for a period of 15 days.
Russian air raids targeted the town of Kafr Zeita in the northern province of Hama today. Others targeted the locality of Maar Zeita in Idlib province near Jisr Al-Choughour. Several civilians were injured.
Battles took place today near Deir Ezzor, between the SDF, Syrian Democratic Forces, the regime and its militias. The SDF are also fighting against Daesh in the same department.
Prisoners in Al-Sweida Prison suspended their hunger strike that started a week ago. Promises to improve living conditions in the prison were given to them.
Daniel Essa, a thirty-year-old Syrian refugee, launched a line of luxury sneakers in Lille, France. This product has already seduced Hollywood actresses.
The image of the day is the ancient theater of Bosra in the province of Deraa, after the last flood.
This post is also available in: Français (French)